Such knowledge is too wonderful for me; it is high, I cannot attain it. (Psalm 139:6)
I personally believe that you cannot confess that Jehovah is God without confessing that He knows all things. When you come to the bottom line, however, most of us are far more concerned about what someone else is saying about us than the fact that the God who knows us is there and knows me intensely, comprehensively, mentally, and verbally. He knows us by sifting us, digging through us, hemming us in, and knowing our thoughts before we think them and our words before we speak them. That is not only a judgment, but also an encouragement.
---
Be challenged by Romans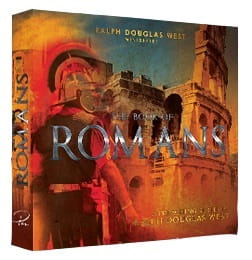 Romans doesn't let us sit still. In Romans, Paul talks about the obligation we are under to spread the truth of the Gospel and to engage with the culture around us. He talks about the journey we must make after we accept the God's gift of salvation. We are called to leave our comfortable and easy corners and spread the message of Christ's sacrifice to everyone around us, because we have been freely justified!