And it happened after a while that the brook dried up, because there had been no rain in the land. (1 Kings 17:7)
We can't always live by the bubbling brook. This is not fantasyland, remember; this is hard-core living. It means there's recession and inflation facing us. Sometimes it even means unemployment. This is a time of testing our spiritual mettle. Nevertheless, we assume that when brooks dry up it's because God is mad or we've done something wrong. But we must realize that all of us come to a moment when brooks dry up. Yet, this doesn't mean that God doesn't have unexpected surpluses elsewhere. When you learn to trust God in the tough times, God will be your surprising supplier.
---
Be challenged by Romans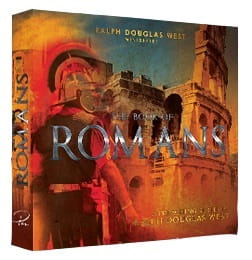 Romans doesn't let us sit still. In Romans, Paul talks about the obligation we are under to spread the truth of the Gospel and to engage with the culture around us. He talks about the journey we must make after we accept the God's gift of salvation. We are called to leave our comfortable and easy corners and spread the message of Christ's sacrifice to everyone around us, because we have been freely justified!