. . . and straining toward what is ahead . . . toward the goal to win the prize for which God has called me heavenward in
Christ
Jesus
. (Philippians 3:13b-14 NIV)
Here Paul paints the image of a runner with body bent over, hands stretched out, and head fixed forward. This is the position that we should orient our lives toward so we can experience a future fuller encounter with Christ. To do this, we must identify the past things that distract us from always looking ahead. The runner then selects his lane and prepares for the race of his life, riveting his eyes to the finish line as his goal. Our motivation is the heavenward call to God, so we must fix our eyes on Him.
---
Be challenged by Romans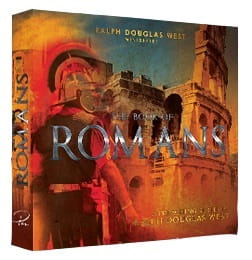 Romans doesn't let us sit still. In Romans, Paul talks about the obligation we are under to spread the truth of the Gospel and to engage with the culture around us. He talks about the journey we must make after we accept the God's gift of salvation. We are called to leave our comfortable and easy corners and spread the message of Christ's sacrifice to everyone around us, because we have been freely justified!