Coming to Him as to a living stone, rejected indeed by men, but chosen by God and precious . . . (1 Peter 2:4)
A Jewish legend tells of the rock chosen for the cornerstone of the temple. It had been lost and neglected. Finally, it was rediscovered and elevated to its place of significance. In the same way, God has given to the Cornerstone,
Jesus
Christ
, His place of pre-eminence so man shall not take it away. As the Chief Cornerstone, Jesus Christ is the living link between the old and the new. He binds together the church and all those who have trusted in Him. 
---
Be challenged by Romans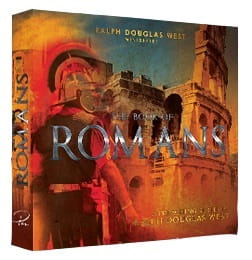 Romans doesn't let us sit still. In Romans, Paul talks about the obligation we are under to spread the truth of the Gospel and to engage with the culture around us. He talks about the journey we must make after we accept the God's gift of salvation. We are called to leave our comfortable and easy corners and spread the message of Christ's sacrifice to everyone around us, because we have been freely justified!