. . . but one thing I do . . . I press on . . . 
Paul was a one-thing person. That is, he had one aspiration toward which he moved with total concentration. One-thing people such as Tiger Woods and Michael Jordan are defined by the priority that gives power and purpose to their lives, which works itself out in a process. Moreover, "pressing on" was the theme of Paul's life. Press on, because nothing in the world can take the place of persistence: 1) Talent will not; nothing is more common than unsuccessful individuals with talent. 2) Genius will not; unrewarded genius is almost a proverb. 3) Education will not; the world is full of educated derelicts.
---
Be challenged by Romans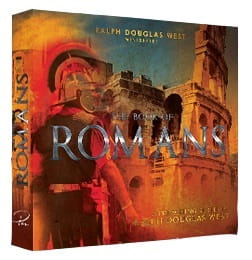 Romans doesn't let us sit still. In Romans, Paul talks about the obligation we are under to spread the truth of the Gospel and to engage with the culture around us. He talks about the journey we must make after we accept the God's gift of salvation. We are called to leave our comfortable and easy corners and spread the message of Christ's sacrifice to everyone around us, because we have been freely justified!