The Painful Upward Stretch of My Soul
In Acts 5:14-16 we learn that by just walking in Peter's shadow, healings to the sick occurred.
I've occasionally met a person so filled with Jesus, their "inner glow" fills the room.
Through Peter, people found the inner healing that only love brings.
I want to live so close to Jesus that people in the workplace feel and experience Him when they're with me.
This passage reminds me to live selflessly for Jesus and others.
I want to become so like Jesus that he can change my world through me. And when I meet Him face to face, He sees only His reflection in me.
Psalm 17:15 says, "As for me, I will see Your face in righteousness; I shall be satisfied when I awake in Your likeness."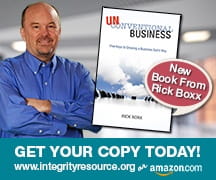 Learn more about Rick Boxx and Integrity Resource Center