A Self-Sacrificing Team
My daughter, Megan, recently led a Young Life team in Colorado. One of the campers had a dream of making it to the summit of the nearby mountain, but he was in a wheelchair with cerebral palsy.
Working together with great pain and sacrifice, a dozen high school boys, carried this young man to the top of the mountain. As they neared the summit it became very emotional. The selfless act of these young men brought them great joy.
Ephesians 5 teaches, "Therefore be imitators of God, as beloved children; and walk in love, just as Christ also loved you and gave Himself up for us."
In business, one of the best team-building experiences possible is when your team members sacrifice their own self-interest for the sake of someone else.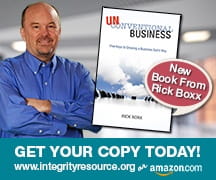 Learn more about Rick Boxx and Integrity Resource Center