Fears from the Past
While walking and praying, I heard a large dog panting. My body went on high alert! As I looked for the possibility of a dog attack, I walked cautiously and fearfully, even though I never saw the dog.
Then the Lord spoke to my soul. "Rick, since you were attacked by large dogs as a child, your past experiences caused you to walk fearfully and cautiously."
He went on, "Many dog lovers would have grown excited to meet a new dog. Don't allow your past fears to hinder your future opportunities."
Proverbs 3 teaches, "Have no fear of sudden disaster or of the ruin that overtakes the wicked, for the Lord will be at your side..."
In business, as in life, fear can hinder our progress, but don't let it.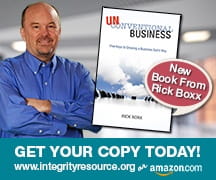 Learn more about Rick Boxx and Integrity Resource Center