Loving Competitors
Years ago, I worked for a bank led by someone who had a cousin also working in the banking business. They were fierce competitors and at times my boss made irrational decisions when his cousin's bank was competing for a loan.
Competition can be healthy or unhealthy depending upon the motives driving decisions. Jealousy and envy can lead to badmouthing competitors or to making irrational decisions that may not be best for their organization.
Jesus taught in Matthew 5, "You have heard that it was said, 'You shall love your neighbor and hate your enemy.' But I say to you, love your enemies and pray for those who persecute you."
Loving our enemies is against our human nature, yet Jesus teaches us to love and care for others, even competitors.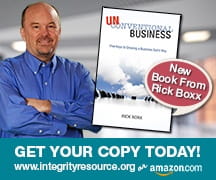 Learn more about Rick Boxx and Integrity Resource Center