Workaholism
Recently, a study on workaholism, referenced in the Wall Street Journal, concluded that the impact workaholism has on health is negligible for those who love their work. However, for those who described themselves as unengaged or feeling trapped in their work, their risks for serious health disorders increases.
Since Gallup research reveals that 70% of workers today are disengaged in their work, this could prove to be problematic. The solution seems to be, find work that you love!
Ephesians 2:10 says, "For we are His workmanship, created in Christ Jesus for good works, which God prepared beforehand so that we would walk in them."
If your work is taking a toll on your health, ask God to reveal what He created you to do, then go do that.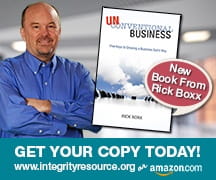 Learn more about Rick Boxx and Integrity Resource Center