Just Be Patient
"Just be patient, and run your race," Matt shouted to his daughter over the call of the Track and Field marshal. Matt and his daughter had a plan. One that would play to her strengths. 
Bang! A wave of runners left the starting line. Within moments of the race, Matt knew his daughter was diverting from the original plan. 
Suddenly, she was running someone else's race. Moments later, she stumbled across the finish line, exhausted, well behind the other runners and her expected place.
The Bible warns us of the dangers of running someone else's worldly race.
Proverbs 14:16 says "The simple inherit folly, but the prudent are crowned with knowledge."
Today, run the race God has given you.  Be prudent, following His strategy, and finish strong.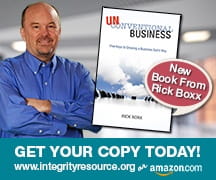 Learn more about Rick Boxx and Integrity Resource Center