F.I.T.T:  Thanksgiving
This week we have been discussing F.I.T.T. leaders. The final letter T represents Thanksgiving.
At the core of accomplished and effective leaders is thankfulness and a heart of gratitude. Research has shown spending a few moments each morning writing down 5 things you are thankful for, creates an optimistic outlook for your day. Optimism is linked to joy, accomplishment, and higher job satisfaction.
Paul encourages us in Philippians 4:6 to approach each day with prayer and a heart of thanksgiving. "Don't be anxious for anything, but in everything by prayer and supplication, with THANKSGIVING, make your requests known to God."
To be a FITT leader, commit the beginning of your day to voicing thankfulness for what you have, and thanking God for what He has and will do for you.
Action:  Start a gratitude journal.
Today's "Integrity Moment" is adapted with permission from the writings of Matt Cline.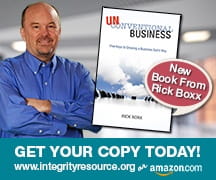 Learn more about Rick Boxx and Integrity Resource Center