A Worthy Memory
By:Rick Boxx
May 30, 2016
Probably the most dangerous workplace is the battlefield. Memorial Day is a day of honoring the soldiers who died on the battlefield.
While many of us serve behind desks or in safe environments, these brave warriors have lived out their God-given vocation by facing the constant fear of death to protect our freedom.
Jesus also sacrificed His life for freedom. In Galatians 5:1 we read, "It was for freedom that Christ set us free; therefore keep standing firm and do not be subject again to a yoke of slavery."
Jesus freed us from the bondage of sin, while our soldiers freed us from evil forces and enemies.
Praise God this weekend for Jesus Christ and the more than one million men and women who gave their lives for our freedom.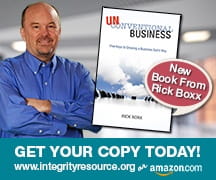 Learn more about Rick Boxx and Integrity Resource Center