Spirit of Truth
By:Rick Boxx
May 25, 2016
A friend forwarded an article that made a great point, and seemed ideal for an "Integrity Moment." As I began to write, I had a nagging feeling that this story couldn't possibly be true.
My research revealed the story to be an urban legend that had been passed around as truth for over 20 years. Its fictionalized account would have undermined my article.
That nagging feeling was the Holy Spirit protecting me from falsehood.
Jesus taught in John 16:13, "But when He, the Spirit of truth, comes, He will guide you into all truth. He will not speak on his own; He will speak only what He hears, and He will tell you what is yet to come."
We make difficult decisions at work constantly. If you need discernment, don't ignore the Holy Spirit.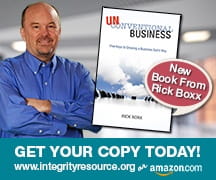 Learn more about Rick Boxx and Integrity Resource Center