Empowering Others
By:Rick Boxx
May 23, 2016
When I have a project that needs done, I have wrestled with the tendency to think about how I'm going to do it. An effective leader, however, considers who's best to do that job, and then releases it and empowers them.
God created the animals, birds, and fish and could have managed them perfectly. Yet, Psalm 8:4-6 teaches, "What is man that you are mindful of him, the son of man that you care for him? You made him a little lower than the heavenly beings and crowned him with glory and honor. You made him ruler over the works of your hands."
God empowered us to help Him in His work. He knows there's value to Him and us when He does.
What project do you need to release today?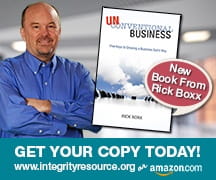 Learn more about Rick Boxx and Integrity Resource Center