Doing Business with Christians
By: Rick Boxx
May 22, 2013
While talking to my friend, Dan, he said, "I'm new to this world of doing business with other Christians, and so far it hasn't gone well! Do you have any advice?"
Since this has been a common refrain I've heard, I immediately had some thoughts. First of all, everyone, even Christians, chase their own selfish ambitions at times.
Many people make the mistake of trusting other Christians so much that they don't do the research or due diligence they would normally. They are, then, shocked when the other party succumbs to temptation and takes advantage of them.
Psalm 118:8 teaches, "It is better to take refuge in the Lord than to trust in man."
Doing business with Christians can be rewarding, but it still requires proper research, documentation, and accountability.
Integrity Resource Center's "Culture" plan is designed to provide management with the necessary training and coaching to build a faith friendly and ethical culture throughout the entire organization. Learn more about our "Culture" consulting plan.
Rick Boxx's How to Prosper in Business without Sacrificing Integrity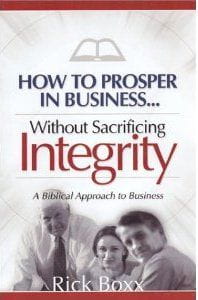 To survive long term, businesses must be profitable. You can accomplish this objective with integrity, or you can do it by whatever means you feel justifies the end, such as fraud, deceit, and ruthless business practices. Purchase here!
"How well are you modeling Faith, Integrity, Relationships, and Excellence in your work? Find out by taking Integrity Resource Center's free FIRE Assessment!"
Contact Rick Boxx at www.integritymoments.org, and to learn more about Integrity Resource Center go to integrityresource.org.