Amazing Mothers
The responsibilities of a mother are incredible! My wife, Kathy, serves her grown children, her mother, and manages our household while launching an Unconventional Business Women's ministry for Integrity Resource Center!
But all this is nothing compared to when our children were very young and she was also working as a nurse.
According to the US Department of Labor, in 2015, 69.9% of mothers with children under 18 years old were in the workplace. These mothers amazingly shape the lives of their children while living out their vocational calling!
Proverbs 31 says about an excellent wife, "Her children rise up and bless her; her husband also, and he praises her, saying: "Many daughters have done nobly, but you excel them all."
Don't forget to show your gratitude this Mother's Day!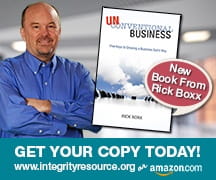 Learn more about Rick Boxx and Integrity Resource Center