The Prayer Heard Around the World
Al Robertson of Duck Dynasty shared at an Integrity Resource dinner about the filming of their very first episode. At the conclusion of episode one, the Robertson's were looking for a special way to close the show.
The producers thought closing with the entire family around the dinner table would be a nice touch. As they awkwardly tried to figure out what they were supposed to do next, Phil Robertson finally said, "Let's do what we always do, let's pray."
According to their fan mail, that simple and consistent act has had greater impact on their followers than any other part of the program.
James 5:16 teaches, "The prayer of a righteous person is powerful and effective."
Living an authentic, prayerful life in your workplace is also powerful and effective.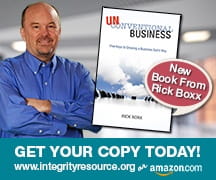 Learn more about Rick Boxx and Integrity Resource Center