Finishing strong
By: Rick Boxx
March 22, 2013
There is a sense of excitement and motivation in starting a new project. But sometimes the enthusiasm turns into apathy once the newness wears off and the challenges begin. So how do I finish strong? The answer may lie in keeping our sights on the "prize."
In 2 Timothy 4:8 the apostle Paul, nearing the end of his life says, "Now there is in store for me the crown of righteousness, which the Lord, the righteous judge, will award me on that day…" Despite hardships and trial along the way, Paul was able to finish strong by focusing on his prize; the crown of righteousness given to him by Christ.
Be encouraged today. Much like Paul, a prize awaits those who persevere and finish strong.
Today's Integrity Moment was adapted with permission from the writings of Matt Cline.
Transform lives and workplaces with a movement of faith and integrity, donate now.
Timothy Keller's Every Good Endeavor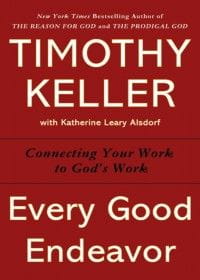 Bestselling author Timothy Keller shows how God calls each of us to express meaning and purpose through our work and careers. Purchase here.
"How well are you modeling Faith, Integrity, Relationships, and Excellence in your work? Find out by taking Integrity Resource Center's free FIRE Assessment!"
Contact Rick Boxx at www.integritymoments.org, and to learn more about Integrity Resource Center go to integrityresource.org.