A Loyal Father
By:Rick Boxx
June 17, 2016
As we approach Father's Day, I was considering my father's great qualities. One of those qualities is hard to find in many workplaces today.
The quality is loyalty. My father has shown devotion to my mother for more than 50 years, and to his children, his church, and his friends for decades!
What's rare in today's culture is my father's loyalty to his employer. My father began working on the General Motors assembly line after returning from the army. For more than 30 years, my father served them faithfully, and even refused to buy any car except a General Motors product!
Proverbs 20:6 teaches, "Many a man proclaims his own loyalty, But who can find a trustworthy man?"
If you know a loyal employee show them some appreciation today.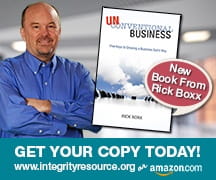 Learn more about Rick Boxx and Integrity Resource Center