Follow the Leader Part III
By: Rick Boxx
July 8, 2015
There was unrest in Matt's spirit as he found himself battling fatigue and a lack of motivation in his work. His heart craved something different.
Matt began to ask, "Lord, is this You calling me to something different, or is this just me and my selfishness?" Matt received insight from Psalms 37:4, "Delight yourself in the Lord and He will give you the desires of your heart."
The second part of developing discernment is "following your heart." When we "Delight in the Lord" a transformation occurs in our heart.
Out of that delight, the desires and inspirations we have in our hearts are created and placed before God. There upon, we can boldly pursue the desires of our heart!
God's desire is for you to pursue those aspirations placed there by Him.
Today's Integrity Moment was adapted with permission from the writings of Matt Cline.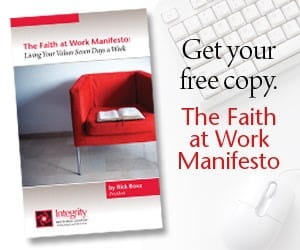 Learn more about Rick Boxx and Integrity Resource Center