Follow the Leader Part II
By: Rick Boxx
July 7, 2015
In early spring, some kids, enjoy growing tomato starts from seeds. As the tomato seeds sprout, the seedlings search out sunlight to fuel their growth.
As the stalks of the tomatoes grow taller, they actually bend over, gravitating towards the light to maximize their exposure to their fuel source.
In Psalms 37:4 David uses the word "Delight" which translated in Hebrew means "to bend towards." The first step in developing discernment for your workplace is to "Delight yourself in the Lord."
Much like tomato starts bending towards the sun, when we "Delight in the Lord", bending ourselves towards Him, we allow the Son of God to be our "light" source.
Before following your heart, ask yourself, "Am I delighting in the Lord, allowing Him to be the light in my life?
Today's Integrity Moment is adapted with permission from the writings of Matt Cline.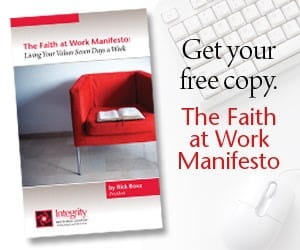 Learn more about Rick Boxx and Integrity Resource Center