The 5 Ps of Work Part I
Over the years, I've met many leaders who have a very limited view of the purposes God has for our work. Some of the reasons God intended for our work include purpose, provision, productivity, pleasing to the eyes, and providing order. Let's begin with Purpose.
Think of God as a General overseeing a war. Many of his people are soldiers, but some are cooks, mechanics, bookkeepers, or marketing people recruiting soldiers. Each person has an individual role to play towards the overarching purpose of winning the war.
Proverbs 19:21 teaches, "Many are the plans in a person's heart, but it is the Lord's purpose that prevails."
Your work matters to God. Discover your appointed vocational purpose and do it in a way that serves God's ultimate purpose.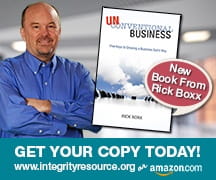 Learn more about Rick Boxx and Integrity Resource Center