Hidden Harassment
A Quinnipiac University Poll claims that 60% of women have been sexually harassed, 69% of those women claim it happened in the workplace. So, I asked my wife Kathy if she had ever been sexually harassed.
Without hesitation, she said "Yes." I was surprised, because I had never heard about any incidents from her.
Fortunately, Kathy was able to stop the harassment, but years later, she still remembered. The fact that I didn't previously know about this made me wonder how many other women never share their embarrassing experiences.
Jesus taught in Matthew 10:26, "There is nothing concealed that will not be disclosed, or hidden that will not be made known."
If you've ever made or considered making inappropriate sexual advances, remember your indiscretion will be disclosed someday.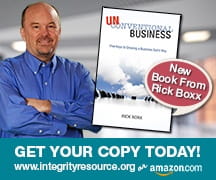 Learn more about Rick Boxx and Integrity Resource Center