Unconventional Business Leaders – Part III
For years, these Integrity Moments have been sponsored by Integrity Resource Center. This week, however, we're excited to announce our new name, Unconventional Business Network, and what it means to be an Unconventional Business Leader.
We believe that Unconventional Business Leaders are people who love God and love others. My friends, Randy and Cheryl, have a business that hires and transports prisoners to their place of business daily.
They have chosen to love these people rather than shun them. Randy and Cheryl's company has impacted many lives, and provided hope and training for these prisoners and their future.
Galatians 5:14 teaches, "For the entire law is fulfilled in keeping this one command: "Love your neighbor as yourself."
If you desire to be an Unconventional Business Leader, love your neighbor.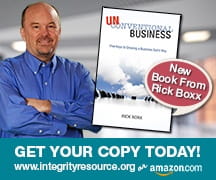 Learn more about Rick Boxx and Integrity Resource Center