A $5 Billion Mistake
When Samsung learned that Apple was not adding any significant new features to their latest IPhone roll out, Samsung reportedly viewed it as an incredible opportunity to finally surpass Apple. So they fast-tracked their new Galaxy Note 7 smartphone for an early launch.
Although the facts are sketchy, it appears that management's decision didn't allow for enough safety testing. The result were phones that burst into flames and the need for a massive recall, resulting in at least a $5 billion mistake.
Proverbs 21:5 teaches, "The plans of the diligent lead surely to advantage, but everyone who is hasty comes surely to poverty."
If time pressures are shortcutting your normal processes, pause, then ask what's your real motivation for the fast time line. That pause may save you a bundle.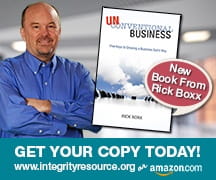 Learn more about Rick Boxx and Integrity Resource Center