A Ministry Plan for Business
By: Rick Boxx
January 4, 2013
As we begin a new year, many people have pulled out their strategic plan, their marketing plan, or their financial plan for the year. How many businesses, however, have ever considered developing a ministry plan?
If you're sincere about your faith, wouldn't it be helpful to have a plan as to your goals and how to best minister to your staff and your community?
In my book "How to Prosper in Business…" I provide a blueprint for how to develop a ministry plan for a business. This tool helps prioritize people over profits.
Psalm 78:72 says about King David and his people, "And David shepherded them with integrity of heart; with skillful hands he led them."
As you launch a new year consider developing a ministry plan for your organization.
Joel Manby's Love Works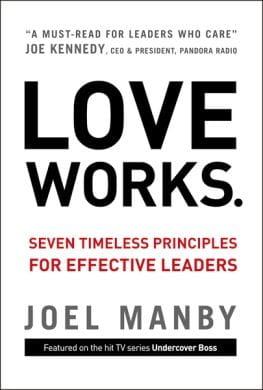 Manby challenges leaders to allow integrity and faith to guide leadership decisions, outlining seven time-proven principles that break down the natural walls within corporate cultures, and cultivating an atmosphere that builds long-term success. Purchase here.
"How well are you modeling Faith, Integrity, Relationships, and Excellence in your work? Find out by taking Integrity Resource Center's free FIRE Assessment!"
Contact Rick Boxx at www.integritymoments.org, and to learn more about Integrity Resource Center go to integrityresource.org.