God's Law of Value Part IV
By:Rick Boxx
February 4, 2016
For the first time, Tom felt justified in raising his prices while his business grew. By providing the "value" his clients truly wanted he realized his worth to his clients and the market, and they valued him more as well.
Tom's reputation was no longer a result of cheaper pricing, but instead by the "Value" he offered to the market. Tom began to live God's 3rd Law of Value: "Acting Valuable."
Committing our personal and professional lives to providing and serving others with "Value" will usually result in growth. Proverbs 16:3 says "Commit to the Lord whatever you do, and your plans will succeed."
"God's Law of Value" is not a formula for success, but an opportunity for us to experience the faithfulness God has for those who choose to believe.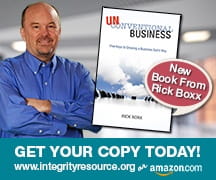 Learn more about Rick Boxx and Integrity Resource Center