Strong Leaders
February is a month that Americans celebrate the birth of two great leaders, George Washington and Abraham Lincoln. Let's reflect on what made these two men great leaders.
Both men had to navigate significant adversity. The Revolutionary War and the Civil War were major turning points in this nation, and, weak leaders could have set this nation on an entirely different path.
The character and strength of a person is often best revealed in the worst of circumstances. In business, we may not have to navigate wars, but personally I've found there is plenty of adversity.
Paul wrote in 1 Corinthians 16:13, "Be on your guard; stand firm in the faith; be courageous; be strong."
When adversity comes your way remember Paul's words. Your staff needs you to be strong.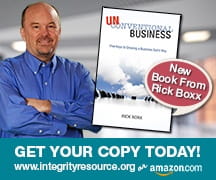 Learn more about Rick Boxx and Integrity Resource Center