An Encouraging Letter
Rick, a reader of our Integrity Moments, had been working with a ministry leader who did something illegal and asked him to follow suit. When Rick refused, he was fired.
Rick says our daily newsletter came into his life at that point to heal his heart. Day by day Integrity Moments assured Rick that doing the right thing was more important than his circumstances.
Later, Rick started his own business and our daily vignettes kept him from temptations. In Acts 15:31, the believers in Antioch were encouraged by a letter. We read, "When they had read it, they rejoiced because of its encouragement."
If you ever wonder why I have written Integrity Moments daily for so many years, it's because of the encouragement it brings to people like Rick.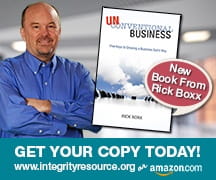 Learn more about Rick Boxx and Integrity Resource Center