Employee Happiness
By: Rick Boxx
December 27, 2012
The "Delivering Happiness at Work" organization had some great insights outlined in a Wall Street Journal article about happy employees. They discovered that happy employees have 31% higher productivity, 37% higher sales and are three times more creative.
Their survey identified three major factors in having happy employees. People need to enjoy the tasks required of them. They need to be able to focus on the things they do best, and finally, they need to be proud of their employer.
King Solomon wrote in Ecclesiastes 5:19, "When God gives any man wealth and possessions, and enables him to enjoy them, to accept his lot and be happy in his work – this is a gift of God."
If you desire higher productivity, know and care about your employee's strengths and passions.
Your gifts provide the resources leaders need to learn and model biblical principles.
Joel Manby's Love Works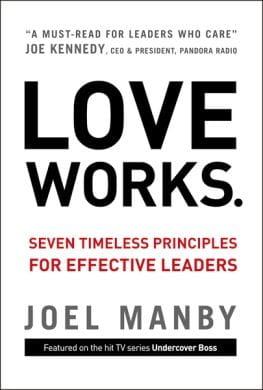 Manby challenges leaders to allow integrity and faith to guide leadership decisions, outlining seven time-proven principles that break down the natural walls within corporate cultures, and cultivating an atmosphere that builds long-term success. Purchase here.
"How well are you modeling Faith, Integrity, Relationships, and Excellence in your work? Find out by taking Integrity Resource Center's free FIRE Assessment!"
Contact Rick Boxx at www.integritymoments.org, and to learn more about Integrity Resource Center go to integrityresource.org.