The Peacemakers
By: Rick Boxx
December 11, 2012
Ryan moved his young family to one of the roughest parts of Kansas City and began an urban farming model, turning a blighted area into a productive oasis. Then, one day, over 50 rounds of gunfire erupted outside of Ryan's home.
Ryan's young son began having nightmares of his father being gunned down. He was so frightened that Ryan sent an email requesting prayers for his son.
When the Police Captain learned of the email, he and 20 police officers came to visit Ryan's son. The Captain comforted Ryan's son by saying, "See all of these men? We're here to protect your father!"
Jesus taught in Matthew 5:9, "Blessed are the peacemakers, for they will be called sons of God."
We should praise God for men like these police officers.
When you share your story, God is glorified. Share your faith at work stories here.
Joel Manby's Love Works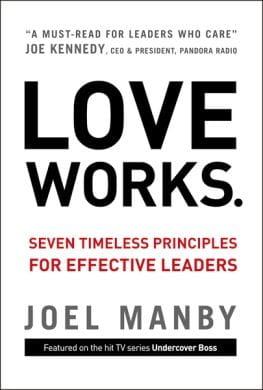 Manby challenges leaders to allow integrity and faith to guide leadership decisions, outlining seven time-proven principles that break down the natural walls within corporate cultures, and cultivating an atmosphere that builds long-term success. Purchase here.
"How well are you modeling Faith, Integrity, Relationships, and Excellence in your work? Find out by taking Integrity Resource Center's free FIRE Assessment!"
Contact Rick Boxx at www.integritymoments.org, and to learn more about Integrity Resource Center go to integrityresource.org.