Bragging Rights
By: Rick Boxx
December 10, 2012
If you listen closely to your conversations, you can hear hints as to where your faith is really placed. For some it's their wealth. For others, it may be their knowledge. For me, at times it's been the ministry.
Some brag about their accumulated possessions, but rarely do we hear people brag about their relationship with God.
Jeremiah 9 teaches, "This is what the Lordsays: "Let not the wise man boast of his wisdomor the strong man boast of his strengthor the rich man boast of his riches,but let him who boasts boastabout this: that he understands and knows me."
You may be blessed with great attributes or possessions, but how well do you know your Heavenly Father? Is it enough to brag about?
Integrity Resource Center can help train your team or consult with your organization on shaping a biblically based culture. Learn more.
Joel Manby's Love Works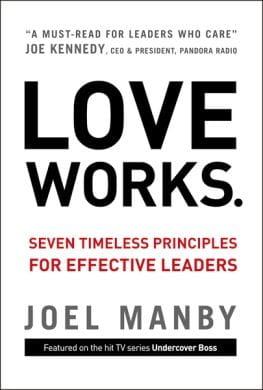 Manby challenges leaders to allow integrity and faith to guide leadership decisions, outlining seven time-proven principles that break down the natural walls within corporate cultures, and cultivating an atmosphere that builds long-term success. Purchase here.
"How well are you modeling Faith, Integrity, Relationships, and Excellence in your work? Find out by taking Integrity Resource Center's free FIRE Assessment!"
Contact Rick Boxx at www.integritymoments.org, and to learn more about Integrity Resource Center go to integrityresource.org.