Meaningful Work
By: Rick Boxx
April 27, 2015
According to an associate professor at Yale School of Management's research, about 1/3 of employees feel their work is a "calling." This Wall Street Journal article noted that this 1/3 group not only feel their work has a higher purpose, but they also are overall more satisfied with their jobs, put in longer hours and "rack-up" fewer absences.
This creates an opportunity for those employers who want to help their employees uncover their higher purpose at work. It brings satisfaction to the employee and increased productivity for the employer.
Proverbs 20:5 teaches, "The purposes of a person's heart are deep waters, but one who has insight draws them out."
Helping your employees better understand the social value of your products and services, and their importance in that work, can benefit all parties.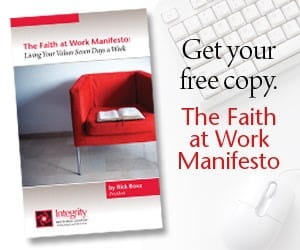 Learn more about Rick Boxx and Integrity Resource Center