Releasing Control
Pharaoh was a prosperous business person who had built his success on the backs of slave labor. Not just a few slaves, but hundreds of thousands of slaves.
Then Moses demanded that Pharaoh release the Israelites. When Pharaoh refused, God began applying pressure through multiple plagues to reveal to Pharaoh that God was really in control.
In Exodus 8:32, and on multiple occasions, we read, "But Pharaoh hardened his heart this time also, and he did not let the people go."
Many business leaders, including myself at times, refuse to release control to God. They would rather trust in themselves than believe that God has a better plan.
God eventually broke Pharaoh. It doesn't have to be that way for you. Release control over what you never really owned.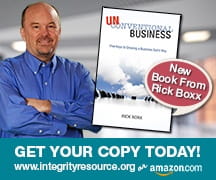 Learn more about Rick Boxx and Integrity Resource Center