Unexpected Opportunities
By: Rick Boxx
April 18, 2013
Truett Cathy, founder of Chick-fil-a, once wrote, "Many successful people I know set magnificent goals for themselves, and then let nothing stand in the way of their achievement. I don't engage in that kind of long range planning."
Instead, Cathy built his chicken empire by committing to a purpose and taking advantage of unexpected opportunities.
As Simon and his brother Andrew fished near the Sea of Galilee, Jesus approached them with an unexpected opportunity, to become disciples. Mark 1:17-18 says, "Come, follow me,' Jesus said. At once they left their nets and followed him."
When we follow Christ, we have to be willing to answer his call and take advantage of the unexpected opportunities he provides.
In your workplace today, look for unexpected opportunities to share the love of Christ.
Today's Integrity Moment is adapted with permission from the writings of Matt Cline.
To determine how well you are living your faith at work take our free FIRE assessment
John Dickerson's The Great Evangelical Recession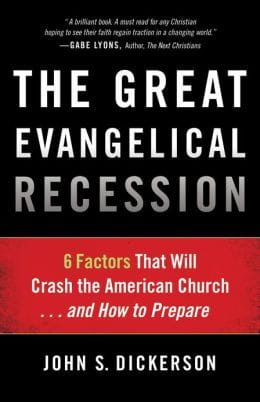 Nationally-awarded journalist John S. Dickerson assembles and interprets studies from dozens of leading researchers-both secular and Christian. After demonstrating the undeniable decline of Christianity in the U.S., Dickerson builds a Biblical case for course correction. Click here for more information.
"How well are you modeling Faith, Integrity, Relationships, and Excellence in your work? Find out by taking Integrity Resource Center's free FIRE Assessment!"
Contact Rick Boxx at www.integritymoments.org, and to learn more about Integrity Resource Center go to integrityresource.org.