Ed Young Television Devotional
Rest for Your Soul
 "Take My yoke upon you and learn from Me, for I am gentle and humble in heart, and you will find rest for your souls."  Matthew 11:29
THINK
When God calls us to do something – or not do something – there's always a reason. He knows what is best for our lives. He doesn't want us to struggle unnecessarily in areas where we could experience success. So the guidelines and guardrails He places in our lives all serve a powerful purpose.
Jesus promises us that when we follow Him, we will "find rest." In other words, when we follow His directives for our lives, we discover our ultimate purpose in Him. It's true in every area, including our relationships.
When it comes to your relationships, are you following God's directives? Have you taken God's "yoke upon you"? When you do, you will truly discover rest for your soul.
PRAY
Thank God once again for His clear direction for your relationships. Thank Him for the peace that comes with following that direction.
ACT
The best place to find the right THEY is in God's House. Make church attendance this weekend a priority in your life, surround yourself with the right THEY, and discover an amazing peace that comes with following God's call on your life!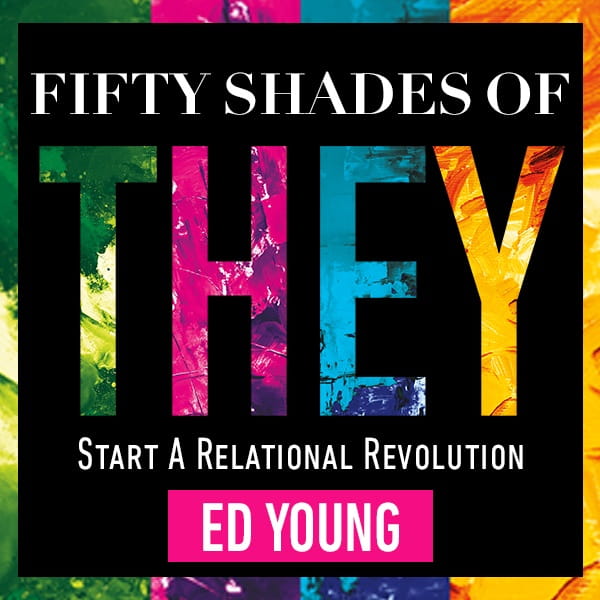 FIFTY SHADES OF THEY From New York Times Best-Selling Author Ed Young
Fifty Shades of They gives you fifty simple, yet profound insights that will help any relationship thrive, from friendships to business partnerships to marriages. Based on biblical standards and the teaching of Ed Young, this book is written for anyone who is looking to give new life to their relationships.
For more information about Ed Young Television please visit FellowshipChurch.com. Ed Young Television is also available on OnePlace.com and LightSource.com.