Ed Young Television Devotional
In, Not Of
For though we live in the world, we do not wage war as the world does.  2 Corinthians 10:3
THINK
Have you ever wondered why God doesn't want us to be mismatched in life? Why does God call Christ followers to do life with other Christ followers? Is it because He wants us to completely detach from the world around us? Does He want those of us who are Christians to turn our backs on the world and just do our own thing? The answer is a resounding NO!
God wants us to impact and influence those around us – especially those who aren't followers of Christ. The only way we can do that is to be "in the world but not of the world." Picture a boat in the water. The boat is IN the water, but it is not OF the water. As you go through life, don't isolate yourself from those around you who are drowning spiritually. Instead, be insulated, not isolated. Make sure you are available to rescue, but don't be in the water drowning yourself. 
PRAY
As you think about the relationships in your life, pray for the opportunities to impact and influence those around you who are not Christ followers.
ACT
Take time right now to pray specifically for someone you know who is not a Christ follower. Reach out to them and let them know you are praying for them.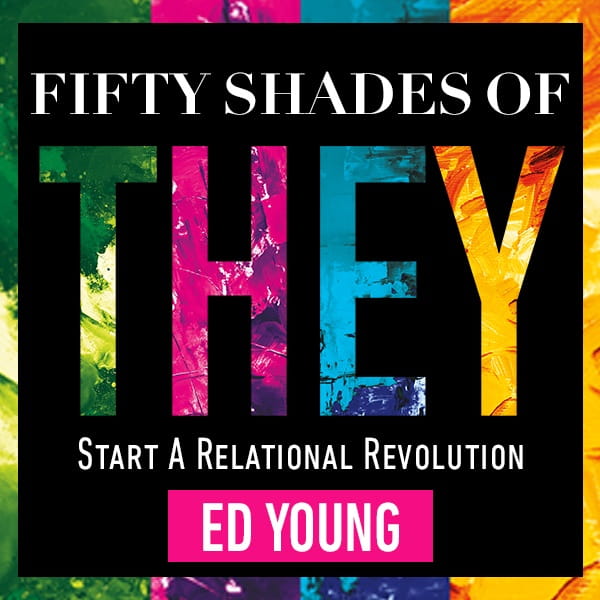 FIFTY SHADES OF THEY From New York Times Best-Selling Author Ed Young
Fifty Shades of They gives you fifty simple, yet profound insights that will help any relationship thrive, from friendships to business partnerships to marriages. Based on biblical standards and the teaching of Ed Young, this book is written for anyone who is looking to give new life to their relationships.
For more information about Ed Young Television please visit FellowshipChurch.com. Ed Young Television is also available on OnePlace.com and LightSource.com.