Tampoco queremos, hermanos, que ignoréis acerca de los que duermen, para que no os entristezcáis como los otros que no tienen esperanza. Si creemos que Jesús murió y resucitó, así también traerá Dios con Jesús a los que durmieron en él.
(1 Tesalonicenses4:13-14RV).
El miércoles, 3 de agosto, sólo unos minutos después del mediodía, mi marido y yo nos sentamos al lado de la cama de mi madre de 90 años y miramos su ida a la eternidad. Que emociones mezcladas acompañaron su "graduación al cielo," aunque lo habíamos esperado por mucho tiempo. Sabíamos que decíamos adiós a su cuerpo terrenal, pero "hasta que nos encontremos otra vez" a su espíritu. Sería tonto pensar que sólo porque sabemos a dónde está ella y que la veremos otra vez que no sentimos la pena o la pérdida, pero esa pena no es lo mismo como lo que es sentido por aquellos cuyos amados mueren sin conocer a Jesús como su Señor y Salvador.
Sentí poco más o menos la misma cosa cuando mi papá murió hace casi 12 años, aunque el gozo inmediato fuera quizás un poco más intenso, ya que él no recibió a Jesús como su Salvador hasta la última semana de su vida — algo por lo que habíamos orado durante muchos años. Mi mamá, por otra parte, vino a conocer a Cristo de un modo personal a la edad de 50 años, y Dios por Su gracia le dio 40 años más para disfrutar de la relación con Él aquí en la tierra.
Si somos benditos para recibir a Cristo como niños y vivir nuestra vida entera con nuestra mano metida con seguridad en la Suya o misericordiosamente venimos a Él en nuestro lecho de muerte, aquellos de nosotros que ofrecimos adiós a amados renacidos pueden alegrarse justo cuando también nos sentimos tristes. Atestiguar el final del sufrimiento terrenal de mi mamá fue alegrarme de que ella había entrado por fin en la presencia de Quién la sostuvo en Sus manos que tienen cicatrices de clavos, en todas partes de su viaje terrenal y justo cuando ella pasara por el valle de la sombra de muerte. Un día también yo me graduaré al cielo y veré por fin de cara a cara a mi Salvador— así como a todos aquellos que se han ido antes de mí.
En efecto, no nos afligimos como aquellos que no tienen ninguna esperanza, porque solamente Cristo es nuestra Esperanza. ¡Gracias, Jesús!
***
But I do not want you to be ignorant, brethren, concerning those who have fallen asleep, lest you sorrow as others who have no hope. For if we believe that Jesus died and rose again, even so God will bring with Him those who sleep in Jesus (1 Thessalonians 4:13-14, NKJV).
On Wednesday, August 3, just a few minutes past noon, my husband and I sat at my 90-year-old mother's bedside and watched her slip into eternity. What mixed emotions accompanied her "graduation to heaven," though we'd long anticipated it. We knew we were saying goodbye to her earthly body, but "until we meet again" to her spirit. It would be foolish to think that just because we know where she is and that we will see her again that we don't feel grief or sorrow, but that sorrow is not the same as what is felt by those whose loved ones die without knowing Jesus as their Lord and Savior.
I experienced much the same thing when my dad died almost 12 years ago, though the immediate joy was perhaps a bit more intense, as he didn't receive Jesus as Savior until the last week of his life—something we'd prayed for over many years. Mom, on the other hand, came to know Christ in a personal way at the age of 50, and God graciously gave her 40 more years to enjoy relationship with Him here on earth.
Whether we are blessed to receive Christ as children and live our entire life with our hand tucked securely in His or we mercifully come to him on our death bed, those of us who bid farewell to born-again loved ones can rejoice even as we grieve. To witness the end of my mom's earthly suffering was to rejoice that she had at last stepped into the presence of the One who held her in His nail-scarred hands throughout her earthly journey and even as she passed through the valley of the shadow of death. One day I too will graduate to heaven and will at last see my Savior face to face—as well as all those who have gone on before me.
Indeed, we do not sorrow as those who have no hope, for Christ alone is our Hope. Thank You, Jesus!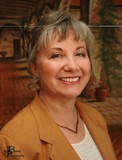 Kathi Macias, popular speaker and prolific author, is an Angel-award winning writer who has published nearly thirty books, including her latest releases, Mothers of the Bible Speak to Mothers of Today (New Hope Publishers) and My Son John (a novel from Sheaf House). Whether keyboarding her latest book, keynoting a conference, or riding on the back of her husband's Harley, Kathi "Easy Writer" Macias is a lady on a mission to communicate God's vision. Her insightful words—filled with passion, humor and soul nourishment—refresh audiences from all walks of life. Join Kathi as she hosts "Write the Vision" every Thursday from 6—7 p.m. (Pacific Time) via THE International Christian Network (www.theicn.com). To learn more about Kathi or to book her for your next event, visit www.KathiMacias.com. Spanish translations by Cynthia Alcantara ([email protected]).