"Todo tiene su tiempo, y todo lo que se quiere debajo del cielo tiene su hora" (Eclesiastés 3:1 RV).
Las temporadas cambian otra vez, y estoy segura que usted lo ha notado. En algunas partes del país, el cambio es drástico; en otros, graduales. Donde vivimos nosotros, en el desierto de California del Sur, nos sentimos muy contentos que la temperatura ha bajado 25 grados de los dígitos triples que nos molestaron el mes pasado.
Hace unos días paseaba con algunas amigas por los jardines botánicos en San Louis, y en el fondo oí una música preciosa e imaginable de arpa. Me concentré para poder identificar la canción, y era "Hojas Secas." Otoño. El tiempo cuando el escritor de la canción proclama que él echa de menos a su amada.
Puedo identificarme con eso, no tanto porque he perdido recientemente a mi mamá o porque mi papá murió en el otoño hace doce años, pero porque realmente echo de menos a mi seres queridos sobre todo en esta época del año. Aunque yo camine muy cerca de mi Salvador en todas las temporadas, hay algo sobre la caída de las hojas en el otoño que toca mi corazón y me pone nostálgica por el cielo. Supongo que parte de ello es que ha pasado un año más y ahora estoy un año más vieja, y mucho más cerca a mí eventual partida. Sin embargo la cosa que mas me sorprendió cuando disfruté del esplendido paisaje en esos jardines botánicos, es que no hace mucho el otoño me recordó que yo ya no estaba joven; estoy en la mediana edad. ¡Ahora ya eso no es cierto (a menos que yo espere vivir por lo menos hasta 125 años!). No, ahora la caída de las hojas me recuerda mí propia temporada de otoño, mis años de la mediana edad están llegando a un final y pronto estaré viviendo en invierno - realmente los años finales de mi vida aquí en la tierra. ¡Y eso, compañeros peregrinos, es un pensamiento alegre!
Seriamente, si realmente creemos lo que decimos que creemos, entonces cada año que pasa, cada hoja de otoño que cae, nos lleva mucho más cerca a estar reunidos, cara a cara, con nuestro Amado, en un lugar donde nunca tendremos que tratar otra vez con los recordatorios nostálgicos o hasta espantosos de temporadas que cambian. Moraremos en cambio en la Luz eterna, gozándonos del calor del Hijo, en una temporada eterna de pura alegría. Hasta entonces, compañeros de viaje, alégrese conmigo cuando las hojas secas de otoño caen a sus pies. ¡La Primavera de Resurrección está a la vuelta de la esquina!
***
To everything there is a season,
A time for every purpose under heaven (Ecclesiastes 3:1, NKJV).
The seasons are changing again, as I'm sure you've noticed. In some parts of the country, the change is drastic; in others, gradual. Where we live, in the Southern California desert, we're thrilled that we've dropped 25 degrees from the triple digits that plagued us just last month.
A few days ago I was strolling with friends through the botanical gardens in St. Louis, and in the background I heard the loveliest harp music imaginable. I focused so I could make out the song, and it was "Autumn Leaves." Autumn. The time when the song writer proclaims that he misses his beloved most of all.
I can relate, not so much because I've recently lost my mom or because my dad died in the fall twelve years ago, but because I truly miss my Beloved most of all this time of year. Though I walk closely to my Savior throughout all the seasons, there is something about falling leaves that tugs at my heart and makes me homesick for heaven. I suppose part of it is that I am yet another year older and that much closer to my eventual home-going. The thing that struck me most, however, as I enjoyed the splendid scenery at those botanical gardens, is that it wasn't that long ago that fall reminded me that I was no longer young; I was middle-aged. Now that's no longer true (unless I expect to live to be at least 125!). No, now fall reminds me that my own autumn season, my middle-aged years, are at an end and I will be soon living in winter—truly the final years of my life here on earth. And that, fellow pilgrims, is a joyous thought!
Seriously, if we actually believe what we say we believe, then each passing year, every falling leaf of autumn, brings us that much closer to being reunited, face-to-face, with our Beloved, in a place where we will never again have to deal with the nostalgic or even frightening reminders of changing seasons. We will instead dwell in everlasting Light, basking in the warmth of the Son, in an eternal season of pure joy. Until then, fellow travelers, rejoice with me as autumn leaves fall at your feet. Resurrection Spring is right around the corner!
***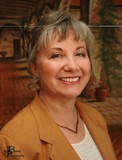 Kathi Macias, popular speaker and prolific author, is an Angel-award winning writer who has published nearly thirty books, including her latest releases, Mothers of the Bible Speak to Mothers of Today (New Hope Publishers) and My Son John (a novel from Sheaf House). Whether keyboarding her latest book, keynoting a conference, or riding on the back of her husband's Harley, Kathi "Easy Writer" Macias is a lady on a mission to communicate God's vision. Her insightful words—filled with passion, humor and soul nourishment—refresh audiences from all walks of life. Join Kathi as she hosts "Write the Vision" every Thursday from 6—7 p.m. (Pacific Time) via THE International Christian Network (www.theicn.com). To learn more about Kathi or to book her for your next event, visit www.KathiMacias.com. Spanish translations by Cynthia Alcantara ([email protected]).