"Pues Jehová tu Dios te ha bendecido en toda obra de tus manos. Él sabe que andas por este gran desierto; estos cuarenta años Jehová tu Dios ha estado contigo, y nada te ha faltado" (Deuteronomio 2:7 RV 1960).
He sido una creyente por más de cuarenta años, y como la mayor parte de creyentes he tenido muchas experiencias de grandes cumbres, pero también he pasado algunos tiempos en los valles. Algunas veces durante esos cuarenta años, sin embargo, me sentí como si yo caminaba con mucha dificultad por el desierto, vagando sin rumbo fijo y sin llegar rápidamente a ninguna parte. Pero sencillamente esa no es la verdad. Sin tener en cuenta si yo estaba en la cumbre, abajo en el valle, o solamente caminando a lo largo, poniendo un pie delante del otro, Dios estaba conmigo. Él ha prometido no abandonarnos nunca ni renunciar a mí, y Él ha sido fiel guardando esa promesa. Si a veces yo no sintiera Su presencia, eso no significa que Él me haya abandonado.
Esa promesa sirve para retirarme en la perspectiva apropiada. Medito sobre los versículos de la Santa Escritura como Deuteronomio 2:7, y me doy cuenta de como Dios ha bendecido el trabajo de mis manos, y muy a menudo más allá de lo que yo podría imaginarme. Realizo también que aun cuando parecía que yo caminaba con dificultad por un gran desierto, nada me hacía falta. ¿Por qué? porque el Señor mi Dios estaba conmigo — y Él es todo que necesito.
Esto es una verdad para usted también, mis querido lector. Si usted ha recibido a Cristo como su Salvador personal y ha renacido en la Familia de Dios, entonces usted puede agarrarse a la promesa de que Dios está siempre con usted, sin tener en cuenta las circunstancias de su vida. Él ha prometido no abandonar Sus hijos — y esto es realmente todo lo que cualquiera de nosotros necesita cuando andamos por esta peregrinación terrenal siguiendo nuestro camino a nuestra morada en el corazón del Padre.
October 5, 2015
"For the Lord your God has blessed you in all the work of your hand.
He knows your trudging through this great wilderness. These forty years the Lord your God has been with you; you have lacked nothing" (Deuteronomy 2:7).
I have been a believer for just over forty years now, and like most believers I've had lots of mountaintop experiences, but I've also spent some time in the valleys. At other times during those forty years, however, I felt as if I were trudging through the wilderness, wandering aimlessly and getting nowhere fast. But that's simply not true. Regardless of whether I was on the mountaintop, down in the valley, or just walking along, putting one foot in front of another, God was with me. He has promised never to leave or forsake me, and He has been faithful to keep that promise. If at times I didn't sense His presence, that doesn't mean He abandoned me.
That promise serves to pull me back into proper perspective. I meditate on scripture verses such as Deuteronomy 2:7, and I realize how God has blessed the work of my hands, most often beyond my wildest imaginings. I realize too that even when it seemed I was trudging through a great wilderness, I lacked nothing. Why? Because the Lord my God was with me—and He is all I need.
That's true for you as well, beloved. If you have received Christ as your personal Savior and been born into God's family, then you can cling to the promise that God is always with you, regardless of the circumstances of your life. He has promised never to leave or forsake His children—and that's truly all any of us need as we walk this earthly pilgrimage on our way home to the Father's heart.
***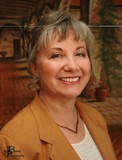 Kathi Macias, popular speaker and prolific author, is an Angel-award winning writer who has published nearly thirty books, including her latest releases, Mothers of the Bible Speak to Mothers of Today (New Hope Publishers) and My Son John (a novel from Sheaf House). Whether keyboarding her latest book, keynoting a conference, or riding on the back of her husband's Harley, Kathi "Easy Writer" Macias is a lady on a mission to communicate God's vision. Her insightful words—filled with passion, humor and soul nourishment—refresh audiences from all walks of life. Join Kathi as she hosts "Write the Vision" every Thursday from 6—7 p.m. (Pacific Time) via THE International Christian Network (www.theicn.com). To learn more about Kathi or to book her for your next event, visit www.KathiMacias.com. Spanish translations by Cynthia Alcantara ([email protected]).