Como el ciervo brama por las corrientes de las aguas,
Así clama por ti, oh Dios, el alma mía (Salmo 42:1 RV 1960).
He visto a un ciervo de vez en cuando en mi vida, pero creo que jamás he visto a un ciervo bramar por agua. He visto, sin embargo, algunos perros bramar por una bebida, y hasta algunos caballos. Con costados que se les levanta a los animales cuando tienen sed y desean beber agua, la necesidad más básica para sostener la vida, ellos son el cuadro de la forma en que deberíamos nosotros desear estar con Dios. ¿Pero lo hacemos?
Ha habido situaciones en mi vida que parecían ser desesperantes e imposibles y que realmente deseaba a Dios de esa manera. Me había agotado tratando por resolver el problema y había llegado finalmente al punto donde yo reconocía sólo a Dios — la necesidad más básica del sostenimiento tanto de la vida física como la espiritual — me podía salvar o liberar. Tuve hambre y sed de Dios, agarrándome a Él con mis uñas. Y cuando Él por medio de Su gracia llenó mi necesidad y sostuvo mi vida, yo estaba segura de no presumir jamás de manejar cualquier aspecto de mi existencia yo sola.
Pero así como hay tiempos resistentes en cada una de nuestras vidas, hay tiempos fáciles también. Aparte de los desafíos diarios de realizar las tareas puestas ante nosotros, no tenemos ninguna lucha seria… y entonces tendemos a olvidar aquellos tiempos de desesperación y comenzamos a depender de nosotros otra vez. Y este es un lugar mucho más peligroso de estar que bramar por Dios cuando hemos llegado finalmente al final de nuestros esfuerzos.
Hoy, mis queridos amigos, ya sea que se encuentre usted en un lugar fácil o uno aparentemente imposible, pídale a Dios que le gire su corazón hacia Él, para que así usted pueda "bramar" por Él así como el ciervo brama por el agua. Aferrándonos a Dios con nuestras uñas es infinitamente más sabio y más seguro que el tratar de danzar por la vida sin Él.
Asthe deer pants for the water brooks,
So pants my soul for You, O God (Psalm 42:1, NKJV).
I've spotted an occasional deer in my lifetime, but I don't think I've ever actually seen one panting for water. I have, however, seen quite a few dogs panting for a drink, and even a few horses. With sides heaving as the animals long for water, the most basic necessity for sustaining life, they are the picture of the way we should long for God. But do we?
There have been times in my life when situations seemed so desperate and impossible that I truly did long for God that way. I had exhausted myself in trying to fix the problem and had finally come to the point where I knew only God—the most basic necessity of sustaining both physical and spiritual life—could save or deliver me. I hungered and thirsted for God, clinging to Him with my fingernails. And when He graciously met my need and sustained my life, I was certain I would never again be so presumptuous as to try to handle any aspect of my existence on my own.
But just as there are tough times in each of our lives, there are easy times too. Apart from the everyday challenges of fulfilling the tasks laid before us, we have no serious struggle going on…and so we tend to forget those times of desperation and begin to depend on ourselves once again. And that's a much more dangerous place to be than panting after God when we have finally come to the end of ourselves.
Today, beloved, whether you are in an easy place or a seemingly impossible one, ask God to turn your heart toward Him, to cause you to "pant" for Him as a deer pants for water. Hanging on to God by our fingernails is infinitely wiser and more secure than trying to waltz through life without Him.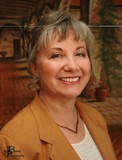 Kathi Macias, popular speaker and prolific author, is an Angel-award winning writer who has published nearly thirty books, including her latest releases, Mothers of the Bible Speak to Mothers of Today (New Hope Publishers) and My Son John (a novel from Sheaf House). Whether keyboarding her latest book, keynoting a conference, or riding on the back of her husband's Harley, Kathi "Easy Writer" Macias is a lady on a mission to communicate God's vision. Her insightful words—filled with passion, humor and soul nourishment—refresh audiences from all walks of life. Join Kathi as she hosts "Write the Vision" every Thursday from 6—7 p.m. (Pacific Time) via THE International Christian Network (www.theicn.com). To learn more about Kathi or to book her for your next event, visit www.KathiMacias.com. Spanish translations by Cynthia Alcantara ([email protected]).