Olvidando ciertamente lo que queda atrás y extendiéndome a lo que está delante, prosigo a la meta, al premio del supremo llamamiento de Dios en Cristo Jesús.(Filipenses 3:13-14 RV)
Apenas puedo creer que este es nuestro último devocional del 2012. ¡El tiempo vuela cuándo uno está divirtiéndose — y, a mi edad, aun cuando uno no está divirtiéndose! Pero eso no es nada. Hemos leído el final del Libro y sabemos cómo termina. Lo que no sabemos es lo que está delante de nosotros entre este momento el momento final cuando como en un parpadear de ojos pasamos a la eternidad para estar con nuestro Señor y Salvador.
¿Con los descensos de la economía, salud personal y cuestiones de relaciones humanas, grandes números de desempleo, y varios otros desafíos de la vida en este mundo quebrantado, ese no saber puede a veces dejarnos más que temerosos, ¿verdad? Yo fui criada por un alemán, primogénita con una personalidad Tipo-A y a quién le gusta tener todos los patitos en fila antes de meter un dedo del pie en el agua. Pero algunas veces las cosas no siempre salen así.
El entrar a un año nuevo puede evocar muchas emociones: entusiasmo, alegría, anticipación — o miedo, temor, depresión. A donde aterrizamos la mayor parte de las veces en esa mezcla depende de si hemos hecho la paz con el pasado preguntándole a Dios y recibiendo Su perdón por nuestros pecados y fracasos entonces podemos olvidar con eficacia "aquellas cosas que ya pasaron" y, por la fe en El quién compró nuestro perdón y promete un futuro glorioso, interminable con Él, "corriendo hacia la meta por el premio de la llamada ascendente de Dios en Cristo Jesús." Sin tener en cuenta si este año pasado trajo tiempos buenos o malos (o más probable, una combinación de los dos), el objetivo de Dios para nosotros es alcanzar aún más alto, aspirar a algo más noble, tener una vida más honorable este año que en el último. Y podemos hacer esto sólo descansando en Sus promesas de vivir en nosotros cuando descansamos en Él.
Deje el pasado — el bueno, el malo, y el feo — bajo la Sangre donde esto pertenece, y anticipe el futuro con la alegría, porque misma Sangre que perdona y cubre el ayer estará allí para nosotros mañana. ¡Feliz año nuevo, queridos amigos!
***
Forgetting those things which are behind and reaching forward to those things which are ahead, I press toward the goal for the prize of the upward call of God in Christ Jesus.
>Philippians 3:13-14, NKJV
I can scarcely believe that this is our last weekly devotional of 2012. I know: Time flies when you're having fun—and, at my age, even when you aren't! But that's all right. We've read the end of the Book and we know how it all turns out. What we don't know is what lies ahead for us between this moment in time and the twinkling of an eye when we step into eternity to be with our Lord and Savior.
With economic downturns, personal health and relational issues, rising unemployment numbers, and various other challenges of living in this broken world, that not knowing can leave us more than slightly apprehensive at times, can't it? I'm a German-raised, firstborn Type-A personality who likes my ducks in order before sticking my toe in the water. But sometimes it just doesn't work out that way.
Facing a new year can evoke a lot of emotions: excitement, joy, anticipation—or fear, dread, depression. Much of where we land in that mix depends on whether or not we've made peace with the past by asking for and receiving God's forgiveness for our sins and failures so we can effectively forget "those things which are behind" and, by faith in the One who bought our forgiveness and promises a glorious, never-ending future with Him, "press toward the goal for the prize of the upward call of God in Christ Jesus." Regardless of whether this past year brought good times or bad (or more than likely, a combination of the two), God's purpose for us is to reach ever higher, to aspire to a nobler, more honorable life this year than last. And we can do that only by resting in His promises to live in us as we rest in Him.
Leave the past—the good, the bad, and the ugly—under the Blood where it belongs, and anticipate the future with joy, for that same Blood that forgives and covers yesterday will be there for us tomorrow. Happy New Year, beloved ones!
***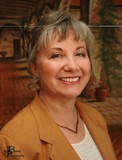 Kathi Macias, popular speaker and prolific author, is an Angel-award winning writer who has published nearly thirty books, including her latest releases, Mothers of the Bible Speak to Mothers of Today (New Hope Publishers) and My Son John (a novel from Sheaf House). Whether keyboarding her latest book, keynoting a conference, or riding on the back of her husband's Harley, Kathi "Easy Writer" Macias is a lady on a mission to communicate God's vision. Her insightful words—filled with passion, humor and soul nourishment—refresh audiences from all walks of life. Join Kathi as she hosts "Write the Vision" every Thursday from 6—7 p.m. (Pacific Time) via THE International Christian Network (www.theicn.com). To learn more about Kathi or to book her for your next event, visit www.KathiMacias.com. Spanish translations by Cynthia Alcantara ([email protected]).