"Sino que en la ley de Jehová está su delicia,
Y en su ley medita de día y de noche"
(Salmos 1:2 RV 1960)
Amo el libro de los Salmos. Descubro que leo ese libro de la Biblia más que ningún otro en particular. Es una colección de himnos sagrados que instruyen, animan, aclaran, exaltan… y sí, a veces corrigen y castigan. ¿Pero no se alegra usted que los Salmos comienzan con una descripción de lo que significa realmente ser bendecido?
El primer versículo en ese primer Salmo nos dice que un hombre es bendecido cuando él sigue un consejo sabio y de Dios. El versículo dos entonces continúa diciendo que un hombre bendecido encuentra su placer en la ley de Dios, meditando sobre ello día y noche. ¿Los dos versículos se unen perfectamente, porque cómo puede alguien caminar en un consejo sabio sin estar primero consciente de la ley de Dios como está escrita en las Escrituras?
El mundo intenta abrumarnos con voces fuertes, pidiendo nuestra atención a gritos. Somos inundados con distintas vistas políticas, teorías psicológicas, hasta consejos para invertir. Algunas suenan más sabias que otras, pero si ellas no tienen su raíz en la última verdad de la Palabra de Dios, entonces a lo más solo contienen una sabiduría temporal. Esta es la ley de Dios, dicha y escrita por Él, quien solo Él sostiene los asimientos del universo juntos y solo Él durará hasta la eternidad.
¿Quiero ser bendecida, y usted? Esto significa que nosotros debemos leer y memorizar y meditar que lo que Dios dice es correcto y verdadero — y luego vivir de esa manera. Cuando hacemos esto, el versículo 3 de ese mismo Salmo promete que seremos como arboles con raíces profundamente enterradas – firmes y prosperando en cualquier cosa que Dios nos llama a hacer o a ser. Y, queridos amigos(as), eso es lo que nos permitirá pasar las bendiciones de Dios a los demás.
***
But his delight is in the law of the Lord,
And in His law he meditates day and night
(Psalm 1:2, NKJV).
I love the Psalms. I find that I read that particular book of the Bible more than any other. It is a collection of sacred hymns that instruct, encourage, enlighten, extol…and yes, at times correct and chastise. But aren't you glad the Psalms start off with a description of what it is to be truly blessed?
The very first verse in that very first Psalm tells us a man is blessed when he follows wise, godly counsel. Verse two then goes on to say that a blessed man finds his delight in God's law, meditating on it day and night. The two verses connect perfectly, for how can anyone walk in wise counsel without first being aware of God's law as written in the Scriptures?
The world attempts to overwhelm us with loud voices, clamoring for our attention. We are inundated with political views, psychological theories, even investment tips. Some sound wiser than others, but if they aren't rooted in the ultimate truth of God's Word, they contain temporal wisdom at best. It is God's law, spoken and written by Him, that alone holds the universe together and alone will last into eternity.
I want to be blessed, don't you? That means we must read and memorize and meditate on what God says is right and true—and then live accordingly. When we do that, verse 3 of that same Psalm promises we will be like deep-rooted trees—strong and unshakeable, prospering in whatever God calls us to do or be. And that, my friends, is what will enable us to pass on God's blessings to others.
***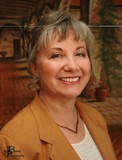 Kathi Macias, popular speaker and prolific author, is an Angel-award winning writer who has published nearly thirty books, including her latest releases, Mothers of the Bible Speak to Mothers of Today (New Hope Publishers) and My Son John (a novel from Sheaf House). Whether keyboarding her latest book, keynoting a conference, or riding on the back of her husband's Harley, Kathi "Easy Writer" Macias is a lady on a mission to communicate God's vision. Her insightful words—filled with passion, humor and soul nourishment—refresh audiences from all walks of life. Join Kathi as she hosts "Write the Vision" every Thursday from 6—7 p.m. (Pacific Time) via THE International Christian Network (www.theicn.com). To learn more about Kathi or to book her for your next event, visit www.KathiMacias.com. Spanish translations by Cynthia Alcantara ([email protected]).