Entonces Job se levantó, y rasgó su manto, y rasuró su cabeza, y se postró en tierra y adoró, y dijo: Desnudo salí del vientre de mi madre, y desnudo volveré allá. Jehová dio, y Jehová quitó; sea el nombre de Jehová bendito. En todo esto no pecó Job, ni atribuyó a Dios despropósito alguno (Job 1:20-22 RV 1960).
Últimamente Dios ha estado llamándome de nuevo a los fundamentos básicos, recordándome guardar aquel fuego de mi primer amor que estaba no sólo encendido, pero ardimiento. ¿Es asombroso cómo rápidamente y fácilmente somos distraedos, verdad? Esto no toma más que una cosa brillante o dos, y nos vamos corriendo — no tanto de regreso al mundo, pero más bien atrás del "ministerio" en vez de Aquel quien con Su gracia nos usa en el ministerio.
Personalmente, estoy cansada de ello. Y no tengo a nadie a quien culpar más que a mí misma. Estoy tan ocupada la mayor parte del tiempo que tengo apuntar "respiración" en mi agenda. ¡Ridículo!
Estaba leyendo Job rápidamente esta mañana, y los versículos de arriba se me resaltaron. Cuando el mundo cómodo en el que Job vivía se le comenzó a caer, hizo dos cosas: optó por la indumentaria y un aspecto de luto, y luego cayó sobre su rostro y comenzó a adorar. No negó las cosas desagradables que a él le pasaban, pero no se dejó distraer de la cosa más importante: adorar a Dios, sin tener en cuenta las circunstancias.
Ahora mismo, aparte de unos puntos menores pero luminosos mi la pantalla de radar, las cosas van bien en mi vida. Sin embargo, he vivido el tiempo suficiente para saber que las circunstancias pueden cambiar en un momento. ¿Si/cuándo sucedan, seguiré el ejemplo de Job de reconocer el problema, justo cuando caiga sobre mi rostro y comience a adorarlo a Él?
Si no he establecido ya el hábito y la práctica de adorar a Dios mientras las cosas van bien, es muy posible que no lo haga cuando mi mundo personal comience a caerse. En cambio, podría encontrarme gimiéndole a Dios y culpándolo por mis infortunios. Cuando Job se sentía devastado con su pérdida, reconoció que todo lo que él tenía era debido a la bendición de Dios y que Él tenía todo el derecho de quitárselo. Aún así, él iba a adorar a Dios.
Esto es lo que quiero en mi vida, y no va a pasar si lo único que persigo es simplemente una sensación "espiritual." Una cosa es decir todo es sobre Él"; pero otra cosa es vivir de ese modo. Tengo un compromiso personal de buscar a Dios todos los días – momento por momento – para poder buscar esto último. ¿Te juntas conmigo para hacerlo así?
Then Job arose, tore his robe, and shaved his head; and he fell to the ground and worshiped. And he said:
"Naked I came from my mother's womb,
And naked shall I return there.
The Lord gave, and the Lord has taken away;
Blessed be the name of the Lord."
In all this Job did not sin nor charge God with wrong (Job 1:20-22, NKJV).
Lately God has been calling me back to the basics, reminding me to keep that fire with my first love not only kindled but blazing. It's amazing how quickly and easily we are distracted, isn't it? It doesn't take but a shiny thing or two, and we're off and running—not so much back to the world but after "ministry" rather than the One who graciously uses us in ministry.
Personally, I'm sick of it. And I have no one to blame but myself. I'm so busy most of the time that I have to pencil in "breathing" on my calendar. Ridiculous!
I was reading through Job this morning, and the verses above jumped out at me. When Job's comfortable world was caving in on him, he did two things: he donned the apparel and appearance of mourning, and then fell on his face and worshiped. He didn't deny the tough things he was experiencing, but he didn't let them distract him from the most important thing: worshiping God, regardless of circumstances. That tells me he was a man who regularly worshiped God when things were going well—which, of course, is when we establish the habit and practice of worship. Right now, apart from a few minor blips on the radar screen, things are going well in my life. However, I've lived long enough to know that circumstances can change in a moment. If/when they do, will I follow Job's example of acknowledging the problem, even as I fall on my face and worship?
If I haven't already established the habit and practice of worshiping God while things are going well, I may very well not do so when my own personal world caves in. Instead, I could find myself whining at God and blaming Him for my woes. When Job was devastated with loss, he acknowledged that everything he had was due to God's blessing and that He had every right to take it away. Regardless, he would worship.
That's what I want in my life, and it's not going to happen if I'm chasing "spiritual bling." It's one thing to say, "It's all about Him"; it's another to live that way. I am personally committing to seek God daily—moment by moment—to pursue the latter. Will you join me?
***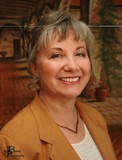 Kathi Macias, popular speaker and prolific author, is an Angel-award winning writer who has published nearly thirty books, including her latest releases, Mothers of the Bible Speak to Mothers of Today (New Hope Publishers) and My Son John (a novel from Sheaf House). Whether keyboarding her latest book, keynoting a conference, or riding on the back of her husband's Harley, Kathi "Easy Writer" Macias is a lady on a mission to communicate God's vision. Her insightful words—filled with passion, humor and soul nourishment—refresh audiences from all walks of life. Join Kathi as she hosts "Write the Vision" every Thursday from 6—7 p.m. (Pacific Time) via THE International Christian Network (www.theicn.com). To learn more about Kathi or to book her for your next event, visit www.KathiMacias.com. Spanish translations by Cynthia Alcantara ([email protected]).