"Mas Dios muestra su amor para con nosotros,
en que siendo aún pecadores, Cristo murió por nosotros"
(Romanos 5:8, NKJV).
Solo faltan dos semanas para la Navidad, y la mayor parte de nosotros estamos atrapados en la en la actividad de compras de temporada, horneando golosinas, envolviendo regalos, planificando, decorando, cocinando.
Oímos mucho sobre "la razón de la temporada," y por supuesto, sabemos que la razón es reconocer el nacimiento del Salvador. ¿Nuestros corazones se calientan cuándo pensamos en el Bebé en el pesebre, pero y cuando consideramos la fealdad de pecado que requirió que el mismo Hijo de Dios viniera a la tierra, no sólo para mostrarnos como vivir, pero que muriera en nuestro lugar?
Una de las preguntas que me gusta preguntar a la gente en la Navidad y a lo largo del año, es, ¿"Cuándo se imagina usted a Dios mirándolo fijamente desde arriba, sonríe Él o frunce el ceño"? ¿" Si somos honestos, a menudo lo vemos fruncir el ceño, verdad? Usted y yo sabemos de nuestros pecados y fracasos bastante bien, y es difícil moverse más allá de ellos y recordar que fue por esos mismos pecados y fracasos que Cristo vino a la tierra y murió en la Cruz. Pero esto no es el final de la historia. ¡Él murió en la Cruz sí… pero tres días más tarde se elevó otra vez! Y porque Él se elevó otra vez, nosotros vamos a elevarnos también. La pena por nuestros pecados fue pagada en su totalidad en el Calvario, y esto significa que cuando el Padre nos mira Él ya no ve nuestros pecados; Él ve la honradez de Cristo. Y Él nos ama con el mismo amor que Él tiene para Su único Hijo.
¿Por qué no hacer esa verdad el enfoque de su temporada de Navidad — y más allá? ¡Cada vez sus pensamientos van a la deriva hacia Dios — y oro para que eso sea a menudo – imagíneselo a Él sonriéndole a usted (no frunciendo el ceño) porque Él le ama tanto que envió a Su único Hijo a un pesebre…para usted y para mí.
But God demonstrates His own love toward us,
in that while we were still sinners, Christ died for us
(Romans 5:8, NKJV).
Christmas is less than two weeks away, and most of us are caught up in the busyness of the season—shopping, baking, wrapping, planning, decorating, cooking.
We hear a lot about the "reason for the season," and of course, we know that reason is to recognize the Savior's birth. Our hearts warm when we think of the Babe in the manger, but what about when we consider the ugliness of sin that required the very Son of God to come to earth, not just to show us how to live but to die in our place?
One of the questions I like to ask people, at Christmas and throughout the year, is, "When you picture God gazing down at you, is He smiling or frowning?" If we're honest, we often see Him frowning, don't we? You and I know our sins and failures only too well, and it's difficult to move beyond them and remember that it was for those very sins and failures that Christ came to earth and died on the Cross. But that's not the end of the story. He died on the Cross, yes…but three days later He rose again! And because He rose again, we will too. The penalty for our sins was paid in full at Calvary, and that means when the Father looks at us He no longer sees our sins; He sees Christ's righteousness. And He loves us with the very same love that He has for His only Son.
Why not make that truth the focus of your Christmas season—and beyond? Each time your thoughts drift toward God—and I pray that's often!—picture Him smiling at you (not frowning) because He loves you so very much that He sent His only Son as a Babe in a manger…for you and for me.
***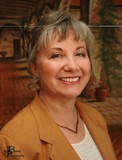 Kathi Macias, popular speaker and prolific author, is an Angel-award winning writer who has published nearly thirty books, including her latest releases, Mothers of the Bible Speak to Mothers of Today (New Hope Publishers) and My Son John (a novel from Sheaf House). Whether keyboarding her latest book, keynoting a conference, or riding on the back of her husband's Harley, Kathi "Easy Writer" Macias is a lady on a mission to communicate God's vision. Her insightful words—filled with passion, humor and soul nourishment—refresh audiences from all walks of life. Join Kathi as she hosts "Write the Vision" every Thursday from 6—7 p.m. (Pacific Time) via THE International Christian Network (www.theicn.com). To learn more about Kathi or to book her for your next event, visit www.KathiMacias.com. Spanish translations by Cynthia Alcantara ([email protected]).