Y él se apartó de ellos a distancia como de un tiro de piedra; y puesto de rodillas oró, diciendo: "Padre, si quieres, pasa de mí esta copa; pero no se haga mi voluntad, sino la tuya." Y se le apareció un ángel del cielo para fortalecerle. (Lucas 22:41-43 RV 1960).
Si usted es como yo (y algo me dice que ese es el caso ya que ternemos el mismo Creador), usted con frecuencia se encuentra preocupado(a) porque no ha recibido la respuesta a alguna oración en particular. ¿No está Dios escuchando? ¿No le importa esto a Dios?
Jesus es nuestro ejemplo perfecto en este caso. Él si tenía el oído del Padre y con seguridad tenía una petición de urgencia cuando se arrodilló en el huerto un poquito antes de ser arrestado y no insistió que Dios le contestara de cierta forma. En Su humanidad, Jesus no se animaba a irse hacia la tortura que ya estaba por sufrir. Como resultado, le pidió a Dios que se la quitara si esa era la voluntad del Padre. Y entonces añadió," pero no se haga mi voluntad, sino la tuya." Fue a ese punto de una completa sumisión a la voluntad de Dios que vino un ángel a fortalecerlo.
Hablando por mí misma, creo que es ahí donde el problema está para mí. Me paso el tiempo rogando y suplicando y hasta armando a Dios fuertemente para que Él conteste mis oraciones de acuerdo a mi voluntad en vez de a la Suya, y entonces me asombro cuando un ángel del cielo no se me aparece para fortalecerme. La paz me evade. El gozo no es más que una memoria. ¿Puede usted relacionarse a esto?
Mi caricatura favorita de todos los tiempos es la de Dennis The Menace, arrodillándose junto a su cama, las palmas de sus manos unidas en oración diciendo, "he venido aquí a entregarme." Cuando lucho a entregarme a la voluntad de Dios, la memoria de esa caricatura me lleva de regreso a ese lugar de sumisión. Dennis the Menace no puso ninguna estipulación en su oración, él sabía que había hecho una travesura y estaba ahí para "entregarse" y pedir misericordia.
Esa es la posición que todos nosotros debemos de asumir (y mantener) cuando venimos hacia Dios en oración, cualquiera que sean nuestras peticiones. El simple hecho que nosotros lo llamamos "Señor" debería de hacernos recordar que debemos mantenernos sumisos a Su voluntad, porque ¿cómo podemos llamarle "Señor" si todavía estamos tratando de manejar todo por medio de nosotros mismos? Cualquiera que haya vivido en una situación feudal sabe que el "señor" es el que está encargado y sus sujetos no tienen nada que decir. Gracias a Dios que los que hemos recibido a Jesus como nuestro Salvador tenemos a un Dios amoroso y misericordioso y no tenemos que tenerle miedo a Su voluntad para nosotros. Así como Dennis the Menance, nosotros simplemente tenemos que presentarnos ante Él, confiando que Él hará lo mejor para nosotros, exactamente como lo hizo por Jesus en el Huerto de Getsemaní.
Estoy lista a entregarme y recibir mi gozo y mi paz de regreso, ¿y usted? Tal vez hasta nos visite un ángel en el proceso.
***
And He was withdrawn from them about a stone's throw, and He knelt down and prayed, saying, "Father, if it is Your will, take this cup away from Me; nevertheless not My will, but Yours, be done." Then an angel appeared to Him from heaven, strengthening Him. (Luke 22:41-43, NKJV).
If you're anything like me (and something tells me that's the case since we all have the same Creator), you often find yourself fretting over why you haven't seen an answer to a particular prayer. Is God not listening? Does He not care?
Jesus is our perfect example in this instance. The One who truly had the Father's ear and certainly had an urgent petition as He knelt in the garden just prior to His arrest did not insist God answer His request a certain way. In His humanity, Jesus did not look forward to the torture He was about to endure. As a result, He asked God to take it away from Him IF it was the Father's will. And then He added, "Nevertheless not My will, but Yours, be done." It was at that point of complete submission to God's will that an angel came to strengthen Him.
Speaking for myself, I know that's where the problem usually lies for me. I spend my time begging and pleading and even strong-arming God into answering my prayers according to my will rather than His, and then I wonder why an angel doesn't appear from heaven to strengthen me. Peace evades me. Joy is but a memory. Can you relate yet?
My favorite cartoon of all time is one of Dennis the Menace, kneeling at his bedside, his hands folded in prayer as he says, "I'm here to turn myself in." When I'm struggling with yielding my will to God, the memory of such a simple cartoon can call me back to the place of submission. Dennis the Menace didn't put any stipulations on his prayer; he knew he had done wrong and he was there to "turn himself in" and ask for mercy.
That's the stance we all need to assume (and maintain) when we come to God in prayer, whatever our petitions may be. The very fact that we call Him "Lord" should remind us that we must remain submitted to His will, for how can we call Him "Lord" if we're still trying to run things ourselves? Anyone who has ever lived in a feudal situation knows that the "lord" is in charge and the subjects have no say. Thankfully, we who have received Jesus as our Savior have a loving and merciful Lord and don't need to fear His will for us. Like Dennis the Menace, we simply have to come and present ourselves to Him, trusting that He will do what is best for us, exactly as He did for Jesus in the Garden of Gethsemane.
I'm ready to turn myself in and get my peace and joy back, aren't you? Maybe we'll even be visited by an angel in the process.
***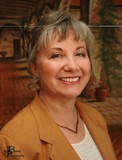 Kathi Macias, popular speaker and prolific author, is an Angel-award winning writer who has published nearly thirty books, including her latest releases, Mothers of the Bible Speak to Mothers of Today (New Hope Publishers) and My Son John (a novel from Sheaf House). Whether keyboarding her latest book, keynoting a conference, or riding on the back of her husband's Harley, Kathi "Easy Writer" Macias is a lady on a mission to communicate God's vision. Her insightful words—filled with passion, humor and soul nourishment—refresh audiences from all walks of life. Join Kathi as she hosts "Write the Vision" every Thursday from 6—7 p.m. (Pacific Time) via THE International Christian Network (www.theicn.com). To learn more about Kathi or to book her for your next event, visit www.KathiMacias.com. Spanish translations by Cynthia Alcantara ([email protected]).