Learn to Pause and Pray Before Adding to Your Schedule
By Rick Warren
"It is a trap to dedicate something rashly and only later to consider one's vows" (Proverbs 20:25 NIV).
When you learn to pause and pray before making a decision, you are helping to slow your life down to a more manageable level.
Proverbs 20:25 says, "It is a trap to dedicate something rashly and only later to consider one's vows" (NIV).
What is God saying? Ponder before promising. Deliberate before deciding. Muse before you choose. Reflect before you select. Consider your commitments prayerfully and carefully before you decide. Pause and pray before deciding. That will slow your life down.
One thing I've had to learn the hard way is you can't just keep adding things to your schedule without eliminating some. Every time you add a new activity to your schedule, you need to take something off.
One of my mentors, Peter Drucker, used to say to me, "Don't tell me what new thing you're doing. Tell me what you've stopped doing." The mark of leadership is knowing what to stop and what to cut out. If you're burning the candle at both ends, you're not as bright as you think you are. You're going to burn out!
Do you have a hard time cutting out activities from your schedule? When you're faced with an opportunity, you need to do three things:
1. Ask, "Is it worth it?" Is it worth your time, energy, effort, reputation, or money?
2. Ask, "What am I going to give up?" Consider the cost.
3. Learn to say "no." It's the greatest time saver in life!
We need to learn to take these three steps and take time to pause and pray before adding more to our already full schedules.
Playtoday's audio teaching from Pastor Rick >>
Talk It Over
Why is it so difficult for us to say "no" to new opportunities?
How can you help your kids learn to prayerfully reflect and consider before adding to their schedules?
What new things have you added to your schedule in the last month? What things can you remove from your schedule to create margin in your life?
For more Daily Hope with Rick Warren, please visit pastorrick.com!
---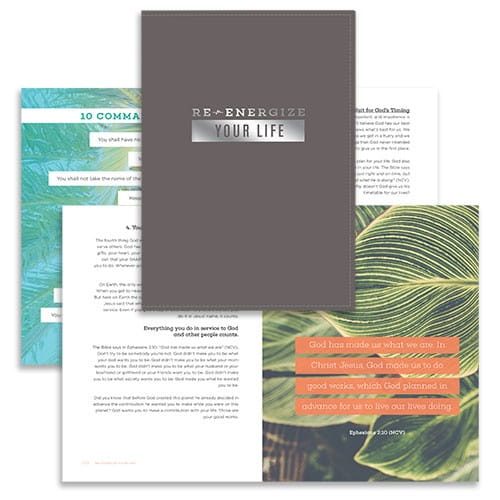 Re-Energize Your Life - A Life Change Book
It doesn't matter how much you work out or how healthy you may eat, if you're not feeding and exercising your spirit… you're going to feel run down and tired – you'll run out of gas. You've got to do more than just take care of your body. You've got to energize your spirit! And the best way to do that is with God's Word! That's why we've put together this new interactive guide called Re-Energize Your Life!
In this first-of-its-kind guide, created from Pastor Rick's most practical teaching, you will learn everything you need to know to re-energize your life the way God intended.  Step by step, you will begin a journey of restoration and renewal. It's a hands-on guide you take at your own pace. No need to rush! In fact, we encourage you to stop and linger where you want to spend more time. You'll benefit from biblical wisdom and learn how to apply it to your life in practical ways.

This high quality "vegan-leather" bound, four-color interactive guide is a user-friendly, practical powerhouse! It's eye-pleasing pages are packed with full-color devotionals, verses, and bible teachings that will dramatically impact your spiritual life forever.
We'll send you the "Re-Energize Your Life - A Life Change Book"  when you give a gift to support Daily Hope. 
This is a limited time offer; request your copy today. Your generous support enables us to share the hope of Christ with people all around the world.

This devotional © 2016 by Rick Warren. All rights reserved. Used by permission.
You can also listen to Rick Warren on OnePlace.com.