Unraveling the Mystery of Heaven
By Rick Warren
"No eye has ever seen, no ear has heard, and no mind has imagined what God has prepared for those who love him" (1 Corinthians 2:9b NLT, second edition).
My family lived in Northern California when I was a little boy. One time we took a family vacation to Disneyland in Southern California. As we were driving, my dad tried to explain to me what Disneyland would be like. It was a waste of time. You can't understand Disneyland unless you experience it.
Some experiences are simply unexplainable.
The same is true about Heaven. We can't compare Heaven to anything we've experienced on earth. The planet where we now reside is just a poor — very poor — carbon copy of the place God has prepared for us in eternity.
The Bible hints at this mystery in 1 Corinthians 2:9b: "No eye has ever seen, no ear has heard, and no mind has imagined what God has prepared for those who love him" (NLT, second edition).
Although human words can't properly explain the divine mysteries of Heaven, we do know a little about what Heaven will be like.
1. We'll be reunited with every other believer (Hebrews 12:22-23). The book of Hebrews tells us that every believer who has ever lived will be in Heaven with us. That includes every person you've ever known who followed Jesus — and the children who never had the opportunity to make that decision.
2. We'll have rewards (Luke 6:35). The Bible mentions rewards in Heaven often. You'll be rewarded for your good actions — your generosity, your good character, and your service. God watches everything. You have to decide where you want to be rewarded: on this temporary side of eternity or on the side that lasts forever.
3. We'll have responsibilities (Luke 16:10-12). You'll work in Heaven. Here's the difference though: You'll use your God-given SHAPE to do what you love to do. You'll be 100 percent fulfilled by the work you do. I don't know what your responsibility will be in Heaven. Luke 16 says that will depend on how you handle your responsibilities here on earth.
4. We'll find rest in Heaven (Hebrews 4:9-11). For many of us, eternal rest in Heaven sounds really good. After a lifetime of work, we'll rest in Heaven like never before. Yes, we'll work, but our work in Heaven will be a restful joy, not a burden.
5. We'll rejoice in Heaven (Matthew 25:21). We're going to celebrate in Heaven!We'll enjoy being with God in Heaven. We'll enjoy being with one another in Heaven. We're going to party for eternity in Heaven!
Play today's audio teaching from Pastor Rick >>
Talk It Over
Try to explain to someone else the most amazing place you've ever visited. After you do so, ask yourself why it's so hard to explain Heaven to others.
Who are you looking forward to being reunited with in Heaven? Why?
If you're going to work in Heaven but it'll be something that fits you perfectly and that you love doing, what kind of work do you think you'll do?
For more Daily Hope with Rick Warren, please visit pastorrick.com!
---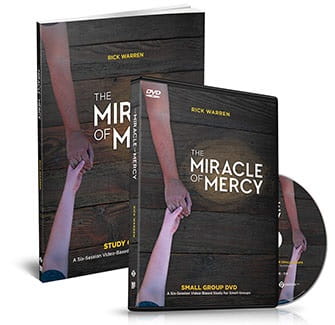 Miracle of Mercy Study Kit
Experience more mercy in your life!

There's a reason God talks about mercy so much in the Bible – because it's one of the most important character traits He wants to develop in us!

That's why Pastor Rick Warren put together his brand-new The Miracle of Mercy DVD study kit.

We want to send you The Miracle of Mercy study kit to thank you for your donation to help more people learn, love, and live the Word! Request your copy when you give below.

May it help you see what mercy really looks like – and experience more of it in your life!

This devotional © 2017 by Rick Warren. All rights reserved. Used by permission.
You can also listen to Rick Warren on OnePlace.com.