God's Justice on Your Side [Part 1]
Are you ready for some good news?
When we walk in the light, we are cleansed from all unrighteousness.
Today's Text: "But if we walk in the light, as he is in the light, we have fellowship with one another, and the blood of Jesus his Son cleanses us from all sin." (1 John 1:7, ESV)
Today we begin a new series we call "Epic Love," a study of 1 John, which is about seeing the grandeur of God's perfect love. 1 John glistens with some of the most precious pearls of the gospel I've ever seen.
Central to this little letter is the reality of two kingdoms - the kingdom of darkness and the kingdom of light, and there is no fellowship between the two. God is light, in Him there is no darkness; but we are all born in darkness. 1 John 1:8 says, "If we say we have no sin, then we deceive ourselves."
We tend to not be honest with ourselves about sin. Sometimes we say, "I don't have any sin because there is no absolute right and wrong." Often this occurs as an understandable reaction against religious legalism, shame, and hypocrisy. Or sometimes we say just the opposite: "There is right and wrong…and I'm right. I'm so thankful that I'm not like all those other sinners." This is what the Pharisees believed.
If we say we have no sin, whether we do so out of rebellion or religion, we are deceiving ourselves.
But 1 John 1:7 tells us this: "If we walk in the light as He is in the light, then we'll have fellowship and the blood of Jesus will cleanse us of all unrighteousness." John is not saying that if you get your act together and start living a better life, then you can have fellowship with God and be cleansed from all your sin. Instead, he is saying that we need to come into the light and quit hiding. We need to be honest with ourselves and say, "Here I am, in need of a Savior."
This is the place of actual fellowship. This is the place where the blood of the Lord Jesus cleanses you of all unrighteousness. When we become Christians, we move from a kingdom of darkness into the kingdom of God's own beloved Son. And that's the gospel!
---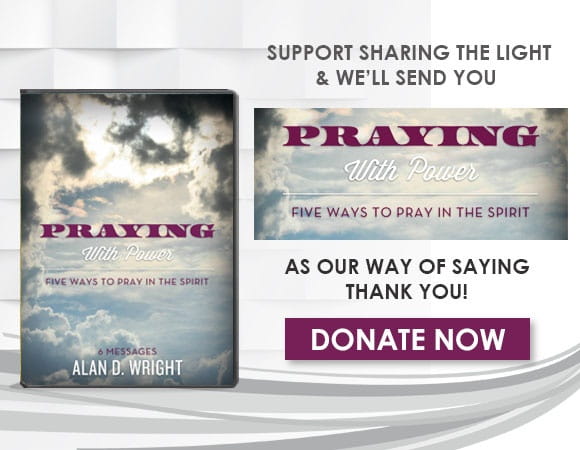 For more information please visit SharingtheLight.org.